Fishing charters Cancun FAQ.
Choosing a Private Fishing Charter in Cancun: A Complete Guide with 2023 Rates
Discover the ultimate guide to selecting a private fishing charter in the exotic destinations of Cancun, Riviera Maya, and Isla Mujeres. We'll guide you through the fishing seasons, diverse fishing styles, types of boats, optional rates, the best fishing habitats, and convenient meeting points ( Isla Mujeres and Cancun). Plus, learn about the most efficient ways to travel from the enchanting Mayan Riviera. Embark on an unforgettable deep sea fishing adventure in Mexico's stunning seaside locations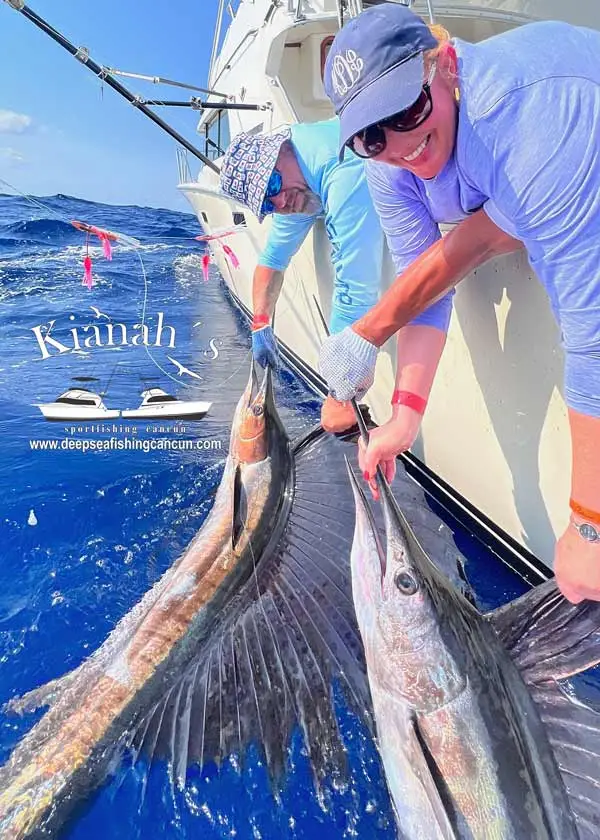 Cancun fishing tips for succes.
How much does it coast to have a private fishing charter?


The rates for a private fishing charter
will depend on the length of the fishing trip and boat size requested. The average cost of a center console panga starts at $360.00, which is a great option for a quick barracuda fishing trip in the bay and near shore.
The Kianah, Grand Slam, and the Showtime are 35' sportfishing boats that can accommodate a single person or a group of up to 6 guests. Pricing starts at $720.00.(fishing rates are per boat) We can tailor the experience to fit your budget and fishing expectations. Take a look at our deep-sea fishing options, which are fully customizable and range from $360.00 up to $1320.00 for the Tiara 3800 Open. This includes taxes and everything you need for a private fishing trip in Cancun.

What is included in a fishing trip in Cancun or Isla Mujeres?

Kianah Sportfishing in Cancun stands out as a premier choice for those seeking an unforgettable fishing experience.


Our private fishing charters offer a comprehensive package that ensures you have everything you need for an exceptional fishing experience.
When you book a fishing trip with us, you can expect the following inclusions:
Top-Quality Fishing rods and reels: We understand the importance of having reliable fishing gear. That's why our charters feature high-quality fishing rods, reels, lines, and tackle are usually provided, You can fish with confidence, knowing that you have professional-grade equipment at your disposal.
Fishing bait and lures: The charter will supply, ballyhoo or artificial bait, depending on the type of fishing.
Safety equipment: Life jackets and other necessary safety gear will be available on board.
Skilled Mates and Experienced Captains: Our crew members are seasoned professionals who are passionate about fishing. They will be by your side throughout the fishing trip, offering guidance, sharing their expertise, and ensuring your safety and enjoyment.
Refreshments: Our charters come fully stocked with an assortment of beverages, including beer, sodas, and bottled water. Stay hydrated and enjoy a refreshing drink as you reel in your big catch.
Cleaning and filleting: The crew will clean and fillet your catch, ensuring it's ready for cooking or transportation.
Clean and Well-Maintained Fishing Boats: We take pride in providing clean and well-maintained fishing boats to guarantee a comfortable and enjoyable experience. Our vessels are equipped with modern amenities and safety features, creating a welcoming environment for all our guests.
**With our all-inclusive fishing charters, we aim to exceed your expectations and create lasting memories. Sit back, relax, and let us take care of every aspect of your fishing adventure in Cancun or Isla Mujeres.

Is catching fish guaranteed during a fishing trip in Cancun?

Catching fish in Cancun is not a problem!
While targeting specific species can be challenging, it's important to note that even catching a small bait fish is considered a successful catch. That's our guarantee!
Cancun is blessed with an incredible sardine migration during the winter, attracting a wide range of fish species to the north of Cancun and Isla Mujeres. From barracudas to sailfish, snappers, and groupers, the waters offer abundant opportunities. The remarkable reef structures in depths ranging from 100 to 300 feet harbor diverse fish species throughout the year.
While bait availability varies moderately throughout the year, there are plenty of fish species that can be caught every month. We recommend planning your trip according to your expectations and the fishing season in cancun..

What styles of fishing can we practice in Cancun?

*Deep sea fishing, This style involves venturing into the blue waters or offshore areas, trolling for marlin, sailfish, tuna, and more. It typically requires heavy conventional tackle and often takes place near the edge of the continental shelf.
*Salwater Sport Fishing, Considered a recreational activity, saltwater sport fishing offers flexibility with a few different methods, including bottom fishing, live baiting, trolling, and vertical jigging.
*Bottom fishing This technique involves using vertical jigs, chunks of bait, or live bait to target species like grouper, snapper, amberjacks, triggerfish, and other fish found near bottom structures.
*Near Shore, This style of fishing is best suited for shorter trips and is typically done using our center console panga boat. It's ideal for targeting species like barracuda and kingfish in closer proximity to the shore.
*Whether you prefer the thrill of deep sea fishing, the versatility of saltwater sport fishing, or the excitement of near shore adventures, Cancun offers a range of fishing styles to suit your preferences. Our experienced guides will ensure you have an unforgettable fishing experience in these bountiful waters.

Why is private chartering the best option for fishing in Cancun?

When it comes to fishing in Cancun, opting for a private charter is the ultimate choice. Here's why


*Fishing succes, If you have specific species of fish in mind or prefer a particular fishing style, a private charter allows you to tailor the experience to your deep-sea fishing expectations. You can focus on targeting your desired fish with the guidance of experienced professional
*personal attention With a private charter, the crew will be dedicated to you and your party. They will cater to your specific requests and expectations, such as the species of fish you want to target, flexibility with departure time, and the option to customize the duration of your fishing trip. This personalized attention ensures that your fishing experience aligns perfectly with your preferences.
*Relaxation.Take a break from the daily grind, unwind in the tranquility of the ocean, and create cherished fishing memories as you indulge in a truly relaxing deep sea fishing adventure in Cancun.

Is shared fishing in Cancun a good option?

*We do not recommend shared fishing as an option!
If you as a customer pay attention to reviews for any fishing charter competitor on any review site you will notice that the patern of complaints are towards sharing a trip and expecting the crew to cater only to a single person, customers feel like they didn't fish at all or only went for a boat ride and watch other people fish. (there are No specific requests or styles of fishing available)
** You are better off downsizing boats and getting a small private fishing charter, such as the center console panga. for the price of just two paying (individual spots) you can have a way better day of fishing starting at $360.00

When is the Best season to fish Cancun or Isla Mujeres?

THE FISHING SEASON IN CANCUN IS ALL YEAR ROUND. From the most common barracuda at any giving time of the year to the sardine migration during the winter, the area attracts thousands of sailfish along with kingfish, cobias, African pompanos and other pelagic species making the winter the most active time of the year starting late December to the end of March.
WE ARE OPEN TO ANY STYLE OF FISHING. Vertical Jigging for amberjacks, Bait pitching for sails or Live baiting grouper and snappers.
*Late spring - early summer (TOURNAMENT SEASON) Mahimahi, Wahoo, Tuna, White and Blue marlin move in along with the largest fish in the ocean the Whale shark (swim with the whale sharks excursions available.) Plenty of highly migratory fish will pass trough the Yucatan channel. Cancun and Isla Mujeres are situated at the most northern tip of the southern peninsula in Mexico. Allowing you the opportunity to fish one of the top 10 sail fishing destinations in the world. Yes, Our location makes Cancun a top deep sea fishing destination! Thousand of guests from all over the world take the opportunity to fish during the day and have a great evening at a restaurant or night club and perhaps the next day go to an ancient Mayan site. Kianah's Sport fishing charters Welcomes you to Cancun MX.

How Long of a Fishing charter do I need?

**Make your fishing day count!
Give yourself as much time as you are able to have to fish!
Consider that the traveling from the marina to fishing grounds is part of the time chartered, average traveling time is 45 minutes to an hour each way, during the winter time we are targeting sailfish, the distance much is longer.
We can expect an average trip of over an hour and 20 minutes north of Cancun (each way)
Cancun fishing By Kianah's SportFishing Charters.
THE FISHING SEASON IN CANCUN IS ALL YEAR ROUND. From the most common barracuda at any giving time of the year to the sardine migration during the winter, the area attracts thousands of sailfish, marlin, mahi mahi, along with kingfish, cobias, African pompanos and other pelagic species making the winter the most active time of the year starting late December to the end of March. WE ARE OPEN TO ANY STYLE OF FISHING
Private Barracuda fishing charters starting at $360.00 US