Grouper FISHING F.A.Q.
Sportfishing styles for grouper, Live bait, Chunking or with Vertical jiggs. We will provide everything required to have plenty of opportunity to catch a grouper dinner in Cancun.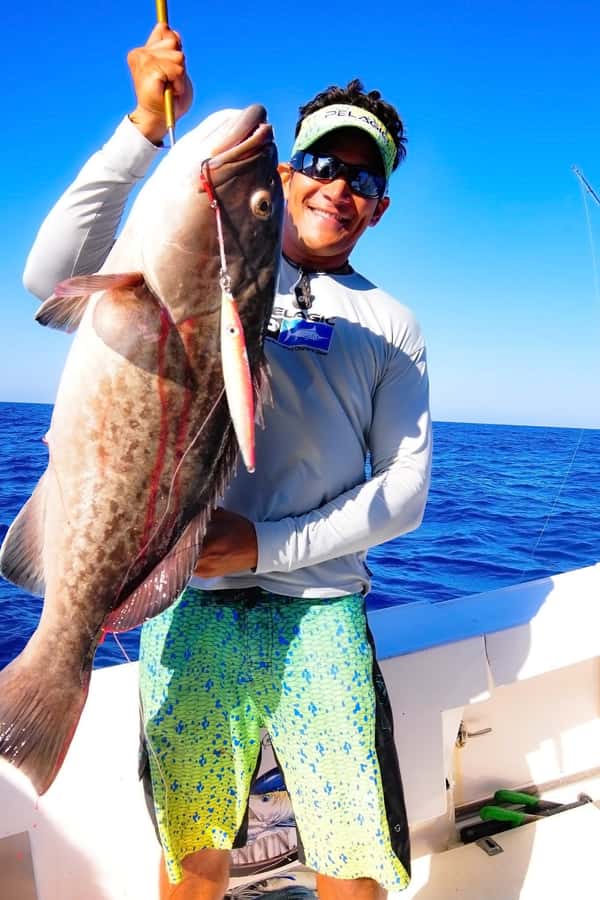 Fishing styles for Grouper, bait, Chunks and Vertical Jigging.
Grouper fishing Cancun?

In Cancun fishing for grouper is an adictive style of fishing, We just do not know what we are going to catch as we target them, With Live bait, blue runners, bucktails, vertical jiggs and/or big bonito chunks, the options are endless, the opportunity for small and big fish are just a drop away, great for kids or the whole family, no experience required!

How big are groupers in Cancun or Isla Mujeres?

Plenty of small to mid size grouper fish can be caught, We fish structures along the edge of the continental shelf, Near Isla Mujeres, Cancun and the Riviera Maya. The offshore coral reefs hold plenty of grouper fish! mostly 10 to 15# and some of the biggest caught on the 80 to 120# range.

When is the best Grouper fishing season in Cancun?

Bottom fishing for grouper is a lot of fun to do all year round, (from February 1st to March 31st the grouper fishery is closed) any fish caught during this period of time are a catch and release only.. In Cancun we are fishing 80' to 350 feet of water a boat with a top of the line fishfinder will make the difference, Grouper love bottom structures. and the best part is that we can target them at anytime of the year.

Is grouper good to eat?

An amazing table fare can be awaiting after a bottom fishing trip. Yes! Grouper is a great fish to eat, and you can catch it and eat it at the marinas restaurant when you get back from your fishing trip.

Does chartering offers the best chance to catch grouper?

When chartering with us, the boats, the crew will have a vast array of fishing gear on board, spinning and light convetional tackle costumized for bottom fishing and loaded with braided line and plenty of vertical jiggs onboard. Yes! you will need a boat to go fishing for them and stand the best chance to succed.

Vertical Jigging for grouper in Cancun?

Vertical jigging can by practiced at any time. Weather, Wind, the oceans current will influence the drifts, we fish near shore and offshore, The average drop is at 250 feet to 500' of water, the current is fast must of the time being just over 3 knots, The deep dropping style offers fun for everyone!

*Give it a try! We will to take you grouper fishing while in cancun.
grouper Fish cancun.
Pictures of some grouper sportfishing charters during our trips in Cancun and Isla Mujeres, MX.
Grouper Fishing Charters
These are some of the finest grouper Fishing boats in Cancun, The Best option to take you fishing in Cancun or Isla Mujeres MX.
Private charters starting at $360.00 US
Grouper Sport Fishing Gallery.
fishing pictures from recent charters in Cancun (grouper)
Contact Us
Visit our place in Cancun, Give us a call or send an email inquiring about fishing with our team.